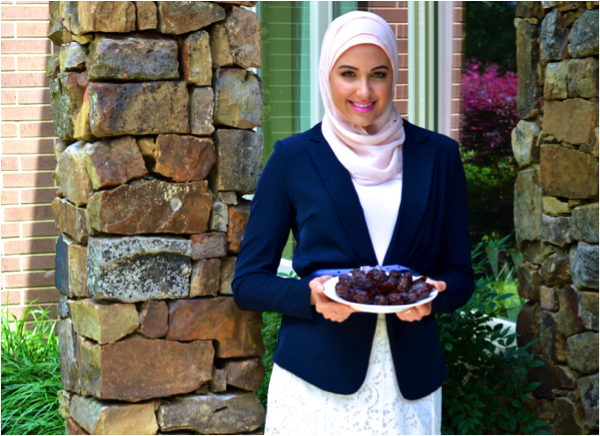 Salam girls :)
Alhamdulillah, Ramadan is upon us once again. :) It's is a month meant for attaining a higher sense of God consciousness with the additional benefits of cleansing the body and purifying the heart. Unfortunately, many people struggle to eat consciously during this time and find themselves gaining weight instead of benefitting from the cleanse. How can we make sure that we reap the benefits of the cleanse that was meant for us during this month? First, let's learn what goes on inside the body during fasting in order to know how to eat properly and maximize the healthful benefits of this blessed month.
In the normal non-fasting state, the body uses glucose (sugar) as the main source of energy. After about 8 hours following a meal, the fasting state occurs naturally, where the body runs low on sugar and starts breaking down fat for fuel. This is what we want! Toxins in fat are released due to fat breakdown and are removed from the body. If the fast is extended for many days to weeks, starvation occurs where protein is the last energy source that the body uses. We don't want that! Since there is plenty of time while the sun is down to replenish energy stores, fasting during Ramadan gives a gentle transition from using sugar for energy to burning fat, without breaking down protein. Now that we know what is going on inside, what can we do to make sure our body is burning fat and removing toxins instead of adding on pounds?
During Ramadan, many people feast all night on fried foods and desserts with the excuse that they will be fasting the whole next day. This is not the mindset that we need to have! The blessed Prophet (pbuh) said, "The children of Adam fill no vessel worse than their stomach. Sufficient for him is a few morsels to keep his back straight. If he must eat more, then a third should be for his food, a third for his drink, and a third left for air." Also, chapter 20, verse 81 of the Quran states, "Eat of the good and wholesome things that We have provided for your sustenance, but indulge in no excess therein." Therefore, nutritious and quality foods in moderation are what will allow a successful cleanse during Ramadan. Let's look more in detail about how and what to eat on a fasting schedule.
Iftar is a crucial time for rehydration after a long day of fasting. Following the prophetic tradition of breaking one's fast with dates and water has been scientifically proven to rehydrate the body more effectively than water alone due to key vitamins and minerals in dates. They also contain a special blend of glucose and fructose to reenergize the body in the short and long term. After breaking your fast with dates and water, it is also best to continue the prophet's (pbuh) tradition and pray Maghrib right away. This gives your body a short time to process the water and dates that you just consumed so that you do not overload your digestive system and also to mentally prepare yourself to exhibit self-control and avoid overeating at dinner.
Dinner should be a normal-sized meal of protein, fiber (which will prevent constipation) and healthy fats. Before your meal, it is also a good idea to eat homemade clear broth based soups, which will slowly awaken your digestive system and allow you to get a little more hydration. Beware of canned soups that have too much sodium, which can actually dehydrate the body. Here are a couple of dinner examples that contain protein, fiber and healthy fats:
Grilled chicken or fish with brown rice or quinoa and vegetables sautéed in olive oil
Lamb or beef with baked sweet potato and veggie salad with olive oil and lemon dressing
I know there are many traditional foods from different cultures that are prepared during Ramadan, which are not necessarily healthy, but hard to go without! You can always make them healthier by using brown rice instead of white, baking or grilling instead of frying, substituting coconut oil for butter, using less sugar or oil and cooking with olive oil instead of canola to name a few. Desserts are also a big part of Ramadan traditions. If you crave something sweet after dinner, reach for fruit! It is hard when there are so many different desserts around, but dates are usually available at everyone's home during Ramadan and make the perfect healthy treat for your sweet tooth.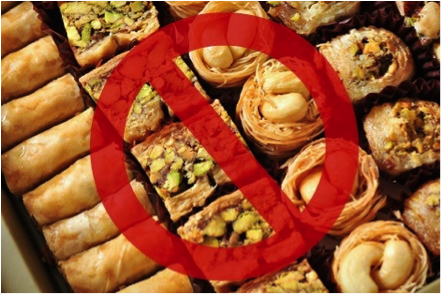 Suhoor is difficult sometimes because it is hard to think of eating a full meal when you would rather be sound asleep. However, it is a practice of our prophet (pbuh) to eat suhoor before Fajr and is the most important meal in order to sustain your energy the entire fasting day. Suhoor should also be a normal sized meal of protein fiber and healthy fats, but with more emphasis on the healthy fats. Fat is what keeps you satisfied and feeling full, not the amount of food you consume. Some examples of healthy fats include olive oil, coconut oil, nuts, seeds and avocado. Here are some example suhoor meals that include protein, fiber and healthy fats:
Eggs scrambled with olive oil and whole grain bread with almond butter or avocado
Boiled eggs and oatmeal with banana, nuts and honey
Smoothie (with a protein powder and healthy fat added like coconut oil, nut butter or avocado)
Hydrating your body is so important during Ramadan because dehydration causes headaches, low blood pressure, fatigue and constipation. Keep a water bottle with you at all times during the night and make sure you are constantly taking sips. Also, keep it next to you during taraweeh and sip on it in between prayers. Avoid caffeine because it causes the kidneys to get rid of water faster, dehydrating the body.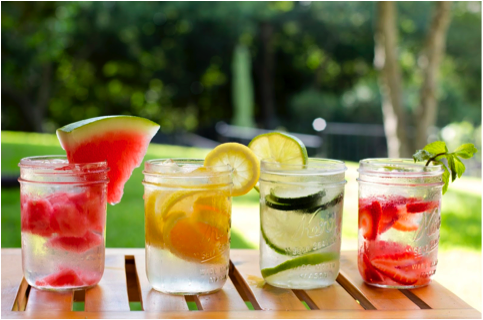 Exercising during Ramadan can be beneficial if done correctly. During the fasting day, your blood pressure may be low and you may have an increased risk of muscle tears due to dehydration. If you wish to continue your fitness regimen, it is best to wait until after you break your fast so that you have the proper energy reserves and hydration. Power walking or light yoga and stretching are great ways to exercise during Ramadan. I am planning on continuing a light weight lifting schedule during the month to maintain tone and working hard to keep my diet clean. I'll resume my regular cardio classes after the month is over. :)
I hope that you have enjoyed my tips and are able to use some of my advice to have a healthful and blessed Ramadan!
XOXO, Leena <3