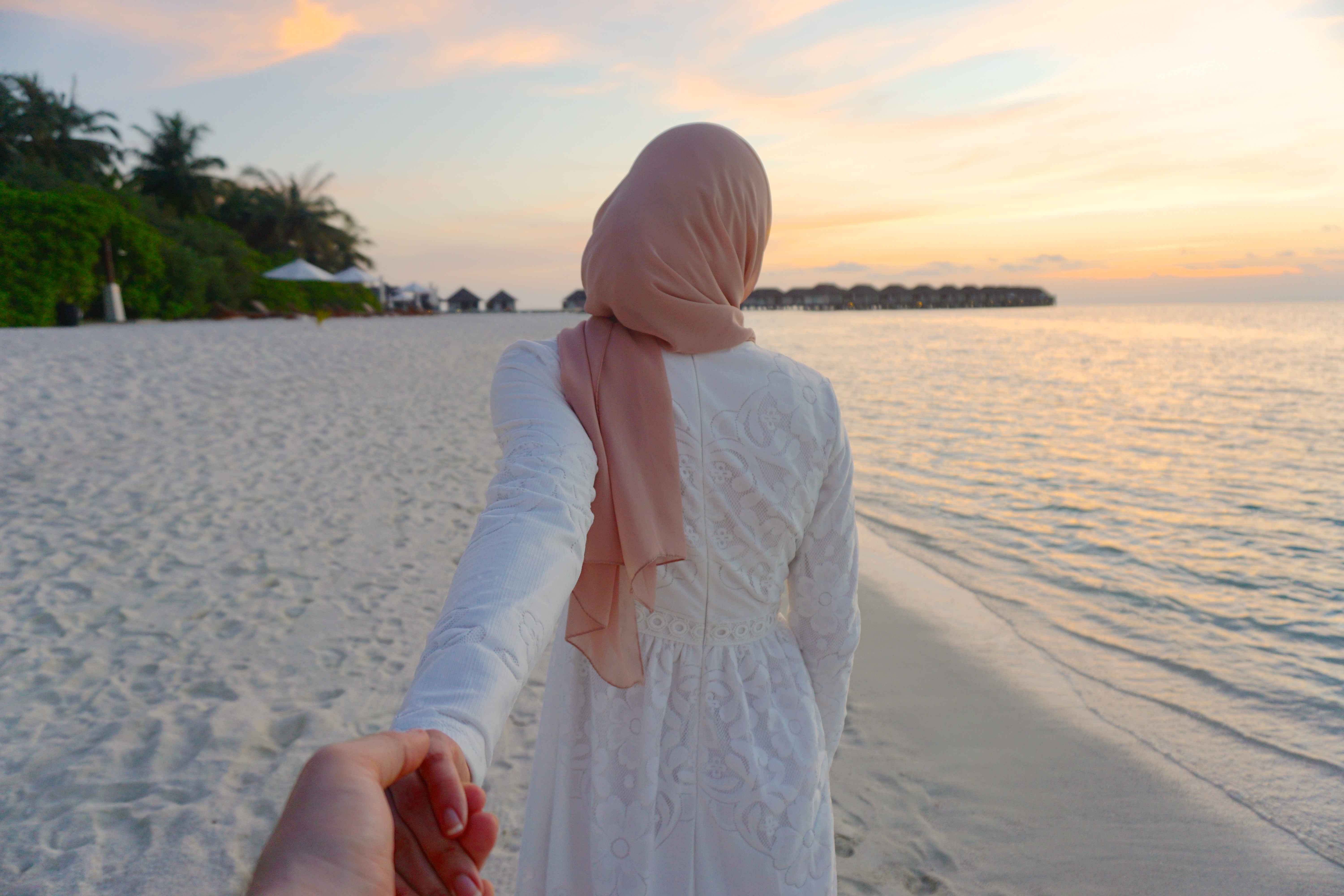 Salam, Lovely! :) No matter where you are in your hijab journey, I hope that I can inspire and encourage you through my experiences inshaAllah. You might be planning on wearing hijab one day down the line. You're not really sure when and don't really want to think about it. Maybe you're a girl who can't stop thinking about the obligation you need to fulfill with your Creator and need advice on how to start dressing more modestly. Maybe you already wear hijab and are struggling with self-confidence and are in need of motivation to continue on.  I have been the girl in all of those scenarios and after three years of wearing hijab alhamdulillah, I can say that I have some good advice to share. I hope you can find hijab a little easier with my tips inshaAllah. :)
1. Set an intention and give yourself a realistic time frame: Growing up, I had always known I would wear hijab in the future, but I never really set a specific goal. I always thought, "Oh, I will wear it when I get married or something, maybe when I start having kids or when I'm old and ugly." My senior year of high school, I began getting closer to Allah SWT and I started realizing that this was an obligation that every woman needed to fulfill. Why was I waiting to please my Creator? I knew I was not guaranteed to live another day, let alone another number of years I was planning on waiting. Hijab was constantly on my mind. I remember a moment a few months before my graduation when doing the dishes with my dad. I turned to him and said, "Baba, I decided I'm going to start wearing hijab this Ramadan." His face lit up. He told me how proud he was of me and gave me a big hug.  That was it. I had just told someone my plan and now I had to become a hijabi somehow by Ramadan time, which was in just about 3 months. I was nervous, but excited that I had an intended date and 3 months would give me enough time to prepare myself.
Giving yourself a time frame, no matter if it's 3 months or 3 years, will help keep you focused and always working toward your goal. Allah SWT knows your intentions and rewards based on that, Alhamdulillah.
2. Start slow. Hijab is definitely more than just a scarf around your hair (even though that is the scariest part). I always dressed pretty modestly for a teenage girl, wearing the occasional short sleeve shirt , but most of the time wore pants and long sleeve tops anyway. My main area that needed a lot of work was the gym. I wore tank tops and yoga pants to the gym every single day. I take group fitness classes and it was nice to just fit in with the rest of the class during a workout. I decided to start slow and begin with short sleeve shirts.  After a few weeks I wore a 3/4 sleeve top and then finally wore long sleeve shirts with pants during my workouts. This was when it became a little terrifying because it was the beginning of the Texas summer. I looked really out of place in full coverage workout apparel among the shorts and tank tops jabbing and uppercutting through our kickboxing class. The teachers would always call me out (they still do!) on the microphone about how hot I must be. I would just awkwardly laugh and continue on with my workout. Since outside the gym my wardrobe was pretty modest, I just made some tweaks so that I was dressing like a hijabi, just without a headscarf. At this point I didn't really take into consideration how tight my clothes were, but I made sure that I wore long pants and long sleeve shirts every day, which was a great start. After many weeks of wearing full coverage to my workout class, it began to feel normal. I couldn't imagine going back to short sleeve shirts, let alone a skimpy tank top. Starting slow was hands down the best thing I could have ever done while preparing to wear hijab. It made the transition so much easier!
I highly recommend you do this if you want to wear hijab. Start by wearing gradually longer sleeves and gradually increase the length of your bottoms even if you're starting with a mini skirt! God sees your small efforts and knows your intentions. :)
3. Mentally and physically prepare.  I used the days leading up to Ramadan to mentally prepare myself. I would wrap a random scarf around my hair (I had no idea what I was doing) and look at myself in the mirror, trying to get use to my new image. When I say physically prepare, I don't mean you have to run on the treadmill with a hijab on.. ha! You need to physically prepare your wardrobe! From the moment I made the decision to wear hijab, I had to start thinking and shopping like a hijabi. I couldn't buy the same things that I use to buy. For example, when I went shopping I had to keep in mind whether the item was see-through or not, or find ways to layer pieces in order to make an outfit more modest. I made a promise to myself that anything I added to my wardrobe from that point on had to be hijabi-friendly. I tried to buy hijabi essentials that my closet was lacking such as loose fitting boyfriend jeans and light-weight blazers for layering. Another obvious essential that my closet was lacking were hijabs! With no hijabis in our house, my mom, sisters and I shared a collection which consisted of mismatched two piece slip-on (Al-Amira) hijabs for things like the going to Friday prayers at the Mosque and Sunday school. I began searching the internet for websites that sold hijabs, and basically bought a bunch of cheaply made viscose hijabs, which I would never wear now, but now I know better!
By the way, so that you don't make the same mistake I did, my personal favorite stores to get basic hijabs in amazing quality I will link here and here. If you love gorgeous patterns, I also recommend this website. Other items like underscarves and pins you can purchase here. You can also get pins at a local fabric store or even places like Walmart in the sewing section, they come in lots of colors!
4. Follow hijabi bloggers and vloggers for inspiration, but find a hijab style that stays true to YOUR personal style. This is one of the main mistakes I made as a new hijabi. I was SO excited when I found out that hijabi fashion bloggers existed. Three years ago, there really weren't that many– the modest fashion industry has just recently grown tremendously on social media!! One of my friends introduced me to a few on Facebook, I couldn't believe it!! They made hijab look so fashionable and effortless. It helped made me confident with my decision to wear hijab because I saw that you didn't have to give up dressing stylishly. If they could be confident with a headscarf and feel beautiful, so could I, inshaAllah. I made the mistake of thinking that once I wore hijab, I would have to change my personal style to incorporate a headscarf into my outfit. I started watching hijab tutorials and copying other girl's hijab styles and outfits that I would have never worn before I started wearing hijab. It took me a while to realize that voluminous hijab styles in an array of colors just wasn't my thing. Once I realized that I needed to stay true to myself, I felt SOOO much more confident in my hijab!!
Try to define your personal style. This is so important when it comes to feeling confident and beautiful in your hijab. Whether you are girly, minimal, boho, sophisticated, classic, hipster, artsy…you can incorporate hijab into your personal style and still be the same girl you have always been!!
5. Practice wearing hijab where no one knows you. I can't even tell you how much this helped me gain confidence in hijab. The thought of going out in public for the first time as a new hijabi was absolutely terrifying for me. I couldn't imagine facing the people I knew and saw everyday in our small town and dealing with the initial reactions. So to overcome this fear, I would wear a hijab on the day that we would travel out of town to go shopping in Dallas, the nearest big city to our home. It felt so freeing because here I was wearing a hijab(!), but no one even knew me so I didn't feel insecure. I could get use to the feeling of wearing hijab and get more accustomed to it without worrying what people thought of me!
You could even just go to the grocery store on a different part of town and wear it around while you do your shopping, or keep your hijab on after Friday prayers when you run an errand or go pick up lunch! I highly recommend doing this because it really helped me transition into hijab more smoothly when it was time to actually face the people I knew.
6. The insecure feeling will go away with time. It was a the day before Ramadan, the day I had promised myself I would make the commitment and fulfill my obligation with Allah SWT. I felt more than ready and so excited that I couldn't even wait one more day. So, the day before Ramadan 2012, I went out to lunch with my family in a headscarf and never looked back. I'm not going to lie to you and tell you it was super easy after that and I never faced any struggles with my hijab. Of course, even with as much preparation I had done I was still insecure at first and constantly worried about what people were thinking about me. I was apprehensive about seeing my friends and family members for the first time. I was actually surprised that even though I was so scared to see their initial reaction, they treated me the exact same!! This reminded me that I was the exact same person! Why did I think things would change so much because of a scarf around my hair? I was also extra sensitive about people staring,  as if I could feel eyes burning into my skin when I walked into any public place like a restaurant or store. Living in America, especially in a small Southern town, this was probably one of the most terrifying things for me to deal with as a brand new hijabi. After about a year of wearing hijab, I realized that the stares and ill feelings from other people were in reality just my own insecurities and paranoia. Yes, people were probably staring and will continue to stare, but most of the time it's not out of hatred, but of curiosity. I always take it as an opportunity to smile at those who are looking at me. I want to show that Muslims are friendly, peaceful people (plus it's Sunnah). I get some questions on its reasoning, but now I realize it's because people really don't know and they are genuinely asking. I take this opportunity to explain and clear up misconceptions so that "hijab" seems more logical and less foreign.
With time, I promise you will gain confidence in your hijab and soon you won't even remember you're wearing it! Sometimes people will actually remind me that I'm wearing a headscarf only because they ask me a question about it! It's so second nature. InshaAllah with time, you will get there. :)
7. Make an effort to do things for yourself that make you feel beautiful. One time when I first started wearing hijab, my friends as I organized a girls tea party at my house, made homemade macarons, wore cute dresses and fixed our hair and makeup, and enjoyed an assortment of different hot teas! Getting your girlfriends together and getting all dolled up really helps you feel good about yourself. As hijabis, we don't get the opportunity to dress up like other girls and sometimes it can leave us resenting hijab and feeling left out. Before I wore hijab, I use to straighten and curl my hair all the time. After wearing hijab, I was guilty of continually leaving it in buns and pretty much forgetting about it.  Now, I make an effort to fix my hair more often (even if its just a braid!). It doesn't matter if its only my family and I who will see it that day, because it makes me feel good about myself!
Another thing that tends to happen when we start wearing hijab is that since we are completely covered, we don't pay as much attention to our body image and can let ourselves go. Another reason for that is the fact that girls think they can't possibly work out in a hijab! This should not be the case! I made an effort to keep up with my regular workouts even after wearing hijab, no matter how uncomfortable I felt as the only hijabi in the class at first, because it made me feel good about the way I looked and helped with my self-confidence!
Even though we cover ourselves for modesty, it is still our body and we should take care of it. Keeping up with our figure and our beauty will help with our self-confidence, even in hijab!
8. Continue to perfect your modesty. I look back now at photos from when I first started wearing hijab and cringe! I would never wear some of the things I had thought were modest at the time. Maybe in 10 years I will look back at myself now and think the same thing. As you wear hijab, you will naturally grow and realize what you feel comfortable wearing and what you don't. However, I ask you to remind yourself of where you started. Don't look at girls who are wearing skinny jeans and a headscarf with judgmental eyes. Where they are in their hijab journey is between them and God, and their efforts to please Him are substantial.
9. Remind yourself of the reason for wearing hijab in the first place. If I ever receive any negativity or if I am just having a trouble with my self-confidence in my hijab that day, I always bring myself right back to the reason I started in the first place. Knowing that I am fulfilling an obligation with my Lord and knowing there is immense reward in what I am doing always makes me feel stronger. I want you to know that by wearing hijab, you are the farthest thing from suppressed. Wearing hijab declares that you are an obedient servant to the Greatest Master and you are free from any man-made system. We are not worried about how our bodies look to other people as we pass by, because that is not who we are trying to impress. We are not worried if our way of life does not fit into the puzzle pieces of society, because that is not who we are striving to please. Now that I feel more confident in hijab, I can't describe to you the feeling I have when I wear it out in public other than free. If you are struggling with hijab, my best advice would be to make dua and ask Allah SWT to make it easy on you and make you love it. He knows our struggles better than we know them ourselves and is the only One with the power to make it easier for us. Never underestimate the power of prayer. 
10. Know that wearing hijab will NOT stop you from doing anything you want to do in life. Before I started wearing hijab, thinking about all of the things that I thought I had to give up gave me anxiety. I thought of my passion for working out and living a healthy lifestyle. Even after wearing full coverage workout clothing, thinking of adding a headscarf while doing cardio was terrifying to me. Alhamduillah I found a hijab style that I feel comfortable in at the gym and still allows me to cover up!! Before wearing hijab, We always tried to be modest when swimming, and I knew how hard it was to find modest swim suits that didn't include an oversized T-shirt and basketball shorts. I thought of the scuba diving suits I saw other hijabis wear and just thought.. nope I'll never swim.. lol! But alhamdulillah, Allah allowed me to find alternatives that were modest and still gave me confidence. I was worried about what people would think of me in nursing school and at the hospital, but thank God, I have had absolutely no problems. And finally, the thought of wearing hijab on my wedding day made me sick to my stomach. But after feeling absolutely beautiful during my engagement, I have confidence that Allah will allow me to feel the same way when that time comes inshaAllah. I want you to know that hijab will not stop you from anything you want to do in your life! You may have to work harder to find modest clothing for the occasion, but Allah will reward you for every struggle and is proudly watching as His slave strives to please Him.
May Allah SWT make hijab easy for all of us and reward us for our efforts! Ameen <3
XOXO, Leena
 UPDATE: more current photos! :)